Friday, October 16, 2009
And I thought that Brooklyn's first year went by fast. Braxton's first year is going even faster if that is even possible.
What have we been up to - well, in one word surviving.... I know that sounds dramatic, but really that is what we are doing. Braxton is so much more different than Brooklyn than I had ever thought would be possible.
Currently, we are trying to understand/deal with his sleeping habits. During the day he is so random in his sleeping habits that it is hard to know when and how long he is going to sleep. Then like a flip of the switch at night he sleeps from 8ish pm until 6 or 7ish am. I know - crazy right.
I was telling Dave the other day that it seems like he only sleeps X amount of hours and when those hours are up he is done sleeping for the day.
Who knows what his little mind is thinking....We are dealing with it and hoping to start understanding him more the next several months.
I dont have his 3 mth stats - but his next pedi appointment is next Friday so I will update this blog post then.
Posted by

Amber
at 10:41 AM
2 comments:

Sunday, September 20, 2009
We entered Brooklyn in the Southern States Biggest Pumpkin Contest after going to the WVU Farm Day back in May.
At the farm day, they gave every child a few pumpkin seeds and instructions how to plant them. The goal was to simiple - grow the largest pumpkin possible.
Brooklyn getting her pumpkin weighed...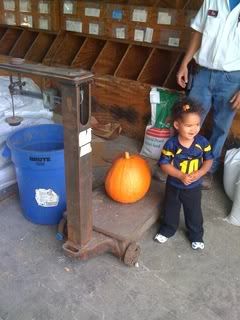 Brooklyn with her reward...
All the kids that participated in the contest...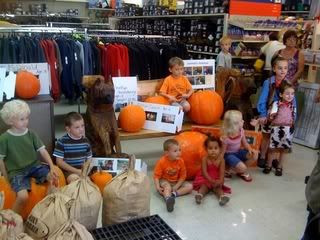 In the end Brooklyn DID NOT win. We were VERY proud of her though...she grew a pumpkin that was 25lbs. Very big for a almost 2 year old. The largest pumpkin was 103lbs...I know, that is HUGE. We will be participating next year so maybe we could win then!
Posted by

Amber
at 12:18 PM
No comments: