Brooklyn turned 5 months on Saturday. Man, It feels like everything month goes by faster and faster. Next month, she will be in Kindergatern....eek What a scary though!
Anyway, here are her stats from her appointment today:
Weight - 16lbs. 10oz.
Height - 25 1/4 ins. (Same as last month; I think that they measured her wrong last month)
They also didn't do a head measurement - but can tell you that Dave and I both think that her head has gotten larger. hehehe...
This month I decided to include a video of Brooklyn so she could always see and hear what she looked like at 5 months.
Here it is: Sorry, the site is being weird so I will have to update with a video later! Sorry, Grammy!
Here are some pictures of Brooklyn this month - She is so cute!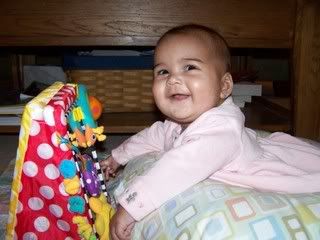 Tired of Mommy taking pictures of her!
Look whose sitting up (with help of course!)
Brooklyn and Ginger - Ginger has become increasingly more interested in what/who/why Brooklyn is here!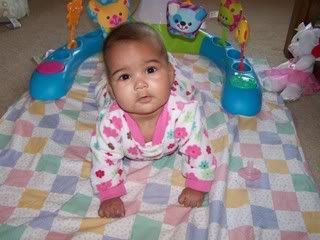 Here is a picture of Brookly modeling her new cloth diapers. All I can say is that Cloth diapering is excited, fun and very interesting. Sometimes I feel like I am in cult and try to convert people. Even at the ped office today, the nurse was asking about them and I was showing/telling her about all the cool things about cloth diapering.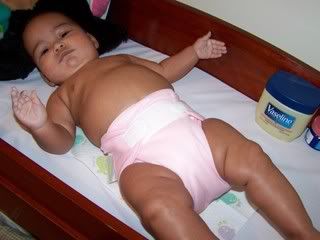 Hugs...