Brooklyn had her first Baby splash class on Friday night. I was a little worried about how she would do in the pool, especially since she hated the tub for the first 9 weeks of her life.
Much to my surprise, she did awesome! She seemed to love splashing/kicking in the water, watching the other kids/babies, and playing with her cousin J who is also in the class. They had lots of toys for the kids to play with and different floater toys that I could put Brooklyn in. She would just lounge in the pool. It was great.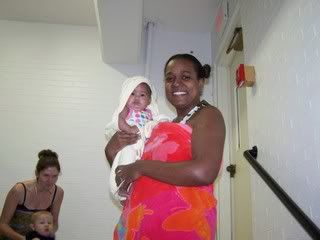 During the class, they had 2 circle times where we were taught some pool safety and some neat sign language. I cant wait for Brooklyn to start signing. I know that it will be awhile but I am excited about it.